EQUIPMENT
The modern bearings and bearing units manufacturing requires the observance of the highest dimensional accuracy of manufactured parts with close to zero deviations in one dimensional series.
Realizing that a high-quality product can only be produced through the use of state-of-the-art equipment, JSC HARP invests significant funds in the permanent renovation and modernization of its production facilities, without forgetting the upgrading of the basic staff.
PROVEN SOLUTIONS FOR YOU!
The use of state-of-the-art equipment from world leaders in mechanical engineering (Behringer, OKUMA, FAMAR, VERKON, GOODWAY, ELTERMA) has already enabled HARP to form one of the largest fleet of CNC machine tools in Ukraine.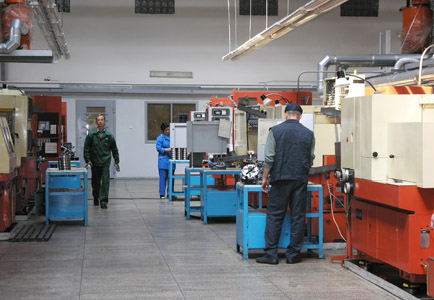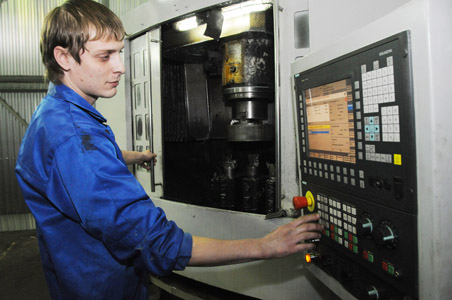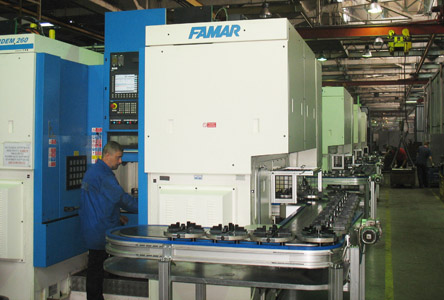 The manufacturing process at the plant includes a number of technological operations accompanied by the use of industrial equipment:
— Cutting of blanks from hot-rolled cold-drawn bars and seamless pipes for manufacturing blanks of ball and roller bearings is carried out using band saws НВР-340 and disk saws НСS-130 Behringer (Germany).
— Forgings of rings for ball and roller bearings are pressed on automatic lines L-324.21.100 (800 tons) and L-324.32.100 (1500 tons) produced by the Tyazhpressmash plant (Russia).
— Annealing of the forgings of the bearing rings is carried out on the A / SP 1000 and A / SP 1200 annealing aggregates from ELTERMA (Poland).
— The lathe processing of the bearing rings is carried out by the factory personnel on automatic machines and semi-automatic machines with numerical control PAB-130 and PAB-160 (VERKON, Czech Republic) and GA2000 \ 300 (GOODWAY, Taiwan).
— Also, the plant carries out a hard and raw turning of the roller bearing rings, which makes it possible to exclude preliminary and semi-finished grinding in the future and guarantees high precision of the produced rings. For this, the lathe processing is carried out on automatic machines 2SP-35HG, 2SP-250 and LVT-300M with control system OSP-U100L (OKUMA, Japan), GS-200Yu GS-280 and GA-3300 (GOODWAY, Taiwan), as well as TANDEM- 250 (FAMAR, Italy).
— Cold rolling of outer and inner rings of ball and roller bearings is carried out on the rolling machines URWA-100, URWA-250 (Profiroll, Germany).
— Thermal treatment of outer and inner rings of ball bearings is performed on electric conveyor furnaces SK3A 08.40 \ 3 and OKB-134, and roller bearings on vacuum equipment for heat treatment processes of SECO / WARWICK THERMAL (USA / Poland).
— Superfinishing of all working surfaces of ball bearings is carried out on machines LZ-261SH and LZ-279, and of roller bearings - on SZASL 50 * 500 machines (Mikrosa, Germany), CNC grinding machines SCD-200 (NAGEL, Germany).
— Eddy current inspection of defects in all manufactured products is performed at the ASVK-N, ASVK-B and ASVK-P3 installations, and the microgeometry parameters of the bearings are made on the T & S Conturo Matic CV250 profilometers (Germany).
Learn more about equipment: TECHNICAL FEATURES OF CGS .pdf TECHNICAL FEATURES OF USHIP .pdf