ADVANTAGES OF HARP PRODUCTS
IMPROVED CHARACTERISTICS OF HARP BEARINGS
1. Effective seals (including patented X-SHIELD seal of increased tightness).
2. Extended precision in manufacture of working surfaces of bearing parts, thereby noise and vibration are reduced.
3. Improved vacuum degassed steel. Only ultra pure steel with a reduced proportion of oxygen content is used for balls. This improved steel extends service life of the bearing and reduces fatigue failure.
4. Optimized raceway radius, which increases the dynamic bearing capacity and, consequently, its durability.

5. Superfinishing surface treatment. Ball bearings undergo superfinishing of all working surfaces, which reduces the heating of bearings, improves noise and vibroacoustic characteristics, and increases their durability
6. High accuracy balls. HARP bearings are assembled with balls of high accuracy (5-16 accuracy degree), which provide noise and vibroacoustic characteristics, extend durability.

7. Roller with modified contact. HARP roller bearings are assembled with rollers with modified contact, which improves bearing performance.

8. Optimized separator. The use of massive polyamide and brass separators in bearings allows to minimize the level of noise and vibration, to increase the speed characteristics of bearings.
9. Automated quenching and tempering in a neutral environment, heat treatment with high frequency currents.
PROVEN SOLUTIONS FOR YOU!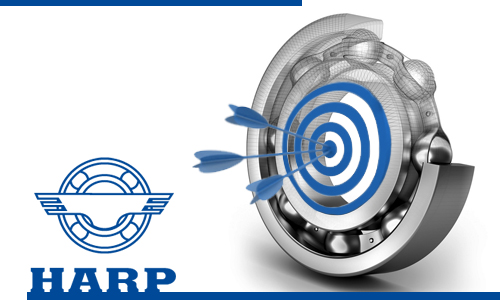 CONTACT US
Sales department:
+38 (050) 302-24-40
+38 (057) 710-11-46
+38 (057) 711-53-06
+38 (057) 710-11-68
+38 (057) 711-60-10